Not a long time ago my friend invited me to buy things from
suruga-ya | 駿河屋
. I don't usually buy things online, and if I do want to, I asked Hobby Japan (and yes, it's far more pricey than the original price). But in suruga-ya, it's different. Suruga-ya is like reseller of second-hand items and merch, and the price is so very cheeeeaaaap. I mean, depending on how old the items are, the price can be cut off even more than 50%. That's a really good deal.
Also, I said secondhand, but the quality is still very good, just like brand new. I guess it's just Japanese. Their second-hand items are still gorgeous and perhaps they have that kind of mentality: never sell something which is not in sale condition. Most of them are even still in mint condition.
Though, I heard somewhere that usually suruga-ya doesn't care much if it's shipping outside Japan. So, my friend asked for a proxy to send it here to my country, and blah and blah. Long story short, my package arrived!!!!
キタ━━━(゜∀゜)━━━!!!!!
I only bought 5 items, because cheap or not, I'm poor (lol). These are the items I wanted at that moment (but after browsing through suruga-ya for a little longer, the desire to waste money was trolling on high and I decided to stop browsing altogether wwwwwww).
The items are: Nyatsume Kyoudai book, Hagaren DX book, Roy Mustang & Black Hayate swing chain, Pom Pom Purin plushie and Dorj plushie.
First one is this
Dorjey
!
This extra cute Little Busters! mascot is totally my favorite! My friend commented on how cute he was. She was "Sanrio characters are so cuuute!" but then I corrected her, "Actually it's a mascot character from some kind of eroge." and she was "......".
Second is
Pom Pom Purin
!
I've always wanted a Pom Pom Purin plushie since fourth grade. When I was 10, my mother promised me to buy a Pom Pom Purin plushie for my birthday, but upon seeing the price tag, she broke the promise by not buying it even till this moment. I know, it was too damn pricey for a 15 cm stuffed animal, but I wanted it so badly especially because she promised me. Up until now and forever, every time we pass Sanrio shop, I always guilt trip my mom by saying that I still want that damn plushie. It's already over 12 years ago but I still want what I want lol.
After I got this one, I shoved it on my mom's face and yelled "SEE, I'M AN ADULT NOW, I CAN BUY MY OWN TOY. THIS IS WHAT YOU COULDN'T GET ME. I BOUGHT IT WITH MY OWN MONEY! AHAHAHAHAHAHAHAHAHAHAHA!" (true story).
This one is waaaay cheaper than what my mom promised me, though. I still remember that extraordinaire price for a single cute thing and even 10 years ago, it was still waaay pricier than this one I bought with my own money. (Let's just say that I bought this one for $2 and the one my mom promised me was $16 -and it was 10 years ago where things were supposed to be cheaper than ever).
Also, this is the size comparison with a Sakura Micron pen.
Third and fourth items,
Fullmetal Alchemist
stuffs!
I've been a fan of Fullmetal Alchemist since the very start of the manga. In fact, I consider that Fullmetal Alchemist is the best manga and anime ever, plot wise, character wise, pace wise and everything. I do think that it is too well-received and perhaps a little overrated, but nah, FA is good no matter what.
I bought the Hagaren DX because back then when I was crazy hyped for FA, I couldn't find this book on Kinokuniya (my only source to buy Japanese books) so I gave up on looking on it. But apparently I found one in surugaya with crazy price. So I bought it. I already got the Perfect Guide Book 1 and 2, so I guess I only need the Perfect Gude Book 3 and my collection is complete (`・ω・´)
I couldn't take any pic because my cam died orz
The other one is this Roy Mustang and Black Hayate swing.
Roy is my favorite character and I'm just crazy about dogs, so yeah....
Apparently this is a free item (labeled "Not for sale" on the backside) Something like bonus for Shounen Gangan magz or the like....
The box is quite big, but the content is actually sooo tiny. Sakura Micron pen, again, for scale. Box has Roy pic on the right flap. The item inside is around 2 cm. So tiny, but nevertheless it's well-made and still in good condition.
The last one is
Nyatsume Kyoudai
book.
Maybe you're not familiar with it, but Nyatsume Kyoudai is a long-running 4 panel comic in Visual Art's (Key) official website. I ordered the copy and after a while, I thought there won't be any difference with the online version and I wasted my money for nothing. Apparently, it was better than I thought. Several panels were being redrawn drastically and the quality is higher in any aspects. There are bonus pages which are not available online. It's printed on high quality paper too!
If you're interested on reading the series, you can read the Japanese version in
Visual Antenna's page
or the soft-translated version in
Danbooru
.
I don't think I'm gonna scan the extra pages, though.... Even though I like the idea on how Nyatsume Kyoudai being scanlated.
Also, I think I should've bought the version with these two. Granted, it's more expensive, but maybe it's worth it...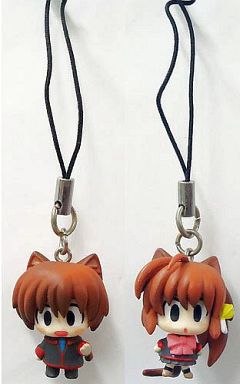 Overall, I'm happy with this first experience with suruga-ya! I think I want to order moar~